---
---
News
136 - 140 von 161 News auf der Seite.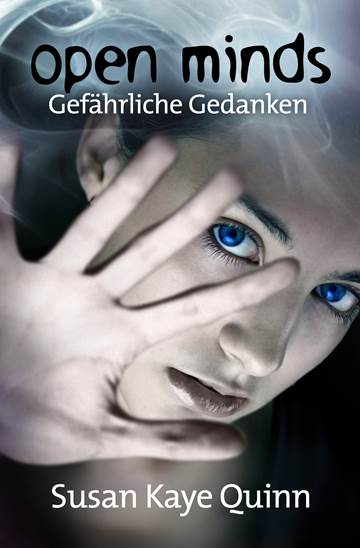 Ich hatte das immense Vergnügen, die deutsche Übersetzung von Open Minds / Open Minds - Gefährliche Gedanken Testlesen zu dürfen. Und weil mich das Buch auch auf Deutsch überzeugen konnte, möchte ich es euch heute zum Erscheinungstermin gerne ans Herz legen. Susan Kaye Quinn hat das e-book zusammen mit dem Übersetzer Michael Drecker und einer Lektorin in Eigenregie veröffentlicht. Das sieht man auch an dem sensationell günstigen Preis. Also greift zu, solange das Buch noch nicht mal einen Euro kostet. Es lohnt sich wirklich.
Um euch schön in Versuchung zu führen, hier noch mal der deutsche Klappentext:
Wenn jeder Gedanken liest, kann ein Geheimnis eine gefährliche Sache sein.
Die sechzehnjährige Kira Moore ist eine Null, jemand der weder Gedanken lesen, noch von anderen gelesen werden kann. Nullen sind Außenseiter denen man nicht vertrauen kann, weswegen sie auch keine Chancen bei Raf hat, einem normalen Gedankenleser und ihr bester Freund, in den sie heimlich verliebt ist. Als sie aus Versehen die Kontrolle über Rafs Verstand übernimmt und ihn dadurch beinahe umbringt, versucht Kira ihre unheimliche, neue Fähigkeit vor ihrer Familie und dem zunehmend misstrauischer werdenden Raf zu verbergen. Aber sie verstrickt sich in ihren Lügen und wird immer tiefer in eine geheime Unterwelt voller Gedankenkontrollierer gezogen. Den Verstand all derer zu kontrollieren, die ihr am Herzen liegen, ist dabei nur eine von vielen gefährlichen Entscheidungen, die noch vor ihr liegen.
Es ist wieder mal soweit, wir haben eine Cover Enthüllung für Euch! Heute möchte ich Euch Love, In English von Karina Halle vorstellen: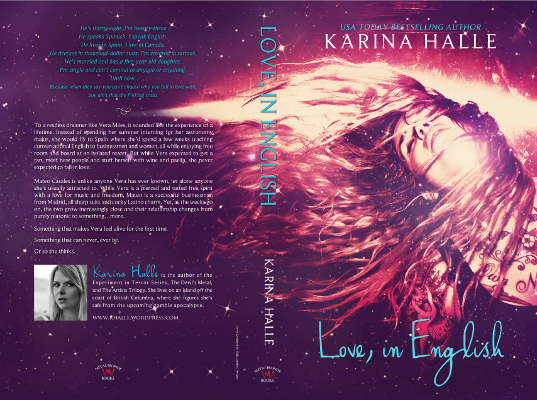 Klappentext:
He's thirty-eight. I'm twenty-three.
He speaks Spanish. I speak English.
He lives in Spain. I live in Canada.
He dresses in thousand-dollar suits. I'm covered in tattoos.
He's married and has a five-year old daughter.
I'm single and can't commit to anyone or anything.
Until now.
Because when they say you can't choose who you fall in love with, boy ain't that the f*#king truth.

To a restless dreamer like Vera Miles, it sounded like the experience of a lifetime. Instead of spending her summer interning for her astronomy major, she would fly to Spain where she'd spend a few weeks teaching conversational English to businessmen and women, all while enjoying free room and board at an isolated resort. But while Vera expected to get a tan, meet new people and stuff herself with wine and paella, she never expected to fall in love.
Mateo is unlike anyone Vera has ever known, let alone anyone she's usually attracted to. While Vera is a pierced and tatted free spirit with a love for music and freedom, Mateo Casales is a successful businessman from Madrid, all sharp suits and cocky Latino charm. Yet, as the weeks go on, the two grow increasingly close and their relationship changes from purely platonic to something...more.
Something that makes Vera feel alive for the first time.
Something that can never, ever be.
Or so she thinks.
Nachdem ihre bisherigen Bücher ja meist eher einen raueren Ton anschlagen, bin ich sehr gespannt, was Karina Halle aus ihrem ersten reinen Contemporary Romance Roman macht.
Einen kleinen Vorgeschmack gibt es in dieser
Leseprobe:
The silence crackled above our heads like a live wire. I could feel Jorge's eyes on us as he reluctantly placed Mateo's drink on the table and walked away. Part of me wished for him to come back, to break up the tension and the startling intensity in Mateo's eyes. The other part was selfishly glad Jorge was leaving us in peace. When he disappeared back into the restaurant, Mateo and I were the only ones on the patio.
I broke away from his eyes, focusing instead on his bottle of Aguila and the condensation that ran down the sides, looking blissfully cool in the sticky night air. Through all the weeks of joking, talking, the innocent physical contact, now I was astutely nervous about being alone with him. It wasn't so much that I was afraid of him - I was afraid of me. Ever since that remark at dinner, I'd been afraid of what I'd do to him, how I'd break that moral code I promised for myself.
He's married, he's married, he's married, I told myself, watching a drop of water race from the beer to the table. His wife is beautiful and lovely, his daughter is sweet and you aren't either of those things.
But I could only tell myself that so many times.
"Vera," he said thickly. "Vera, look at me." His voice was commanding, reaching a depth I hadn't heard before.
My eyes slowly slid over to him. I tried to speak but could only suck in my lip, probably taking all my lipstick off.
"Show me the stars again," he said. His eyes speared me like nothing else, his face becoming dangerously handsome.
I looked up to the clear sky, to see the stars, but he reached out and grabbed my hand. His touch was hot, like his fingers were searing into my skin, that feeling of entering a hot tub on a cold night. I couldn't help the shiver that ran gently down my spine. "Not those stars," he said huskily, leaning forward. His lips were wet and slightly open. "Your stars. Why I call you Estrella."
I swallowed hard, my pulse burning along. I turned around in my chair so my back was to him and lifted up my hair, gathering it on the top of my head.
His chair scraped loudly on the ground as he got up, a sound that struck a new kind of fear in me.
No. Not fear.
Anticipation.
I heard him stop right behind me. I held my breath, wondering what he was going to do. One rough finger pressed down against the back of my neck, right on the spine where the tattoo began. I closed my eyes to the feeling, the currents it caused, traveling all the way down, making me wet. Jesus, I needed to get a hold of myself.
"What star is this?" he asked, sounding like silk. I could wrap myself in his voice. "Alpharatz," I whispered, as if I was letting him in on a secret. Maybe I was.
His finger slid diagonally down, a trail of fire across the Pegasus line. "And this one?"
"Markab."
"Why Pegasus?"
I paused, the truth on my lips. Fuck it. We'd been nothing but honest with each other. "Because I want to fly free. And there?s no place higher than the stars."
He didn't say anything for a few beats. I was tempted to turn around, to look at him, but I didn't want him to take his finger off my neck. I was leaving in three days. He was going back to his family. This was all I had, his skin on my stars.
He leaned in, his hot breath at my neck. "Are you afraid that love will clip your wings?" His words sank into me, making my blood buzz. Love. This was too hazardous a subject to discuss with him, not now. Not ever. With my breath shaking, I inched my neck away from his mouth and turned to face him.
"No," I said, looking him straight in the eye. "I'm afraid that losing love will."
His expression softened. He looked at my lips, his beautifully long eyelashes casting shadows on his tawny skin.
"Then that makes two of us," he whispered softly and for a long second I thought he was going to get it over with and finally kiss me, put an end to this strain between us, the yearning that made me ache inside. But he straightened up, his gaze avoiding mine, and went to retrieve his beer from the table.
Love, In English erscheint im April 2014. Alle weiteren Informationen und Links findet ihr entweder auf Goodreads oder auf Karina Halles Autorenseite auf unserem Blog.
Übrigens hat Karina Halle eine besondere Überraschung für ihre Fans (zumindest für die, die vielleicht nette Bekannte in den USA oder Kanada haben): Es gibt ein signiertes Leseexemplar zu gewinnen!
a Rafflecopter giveaway
Viele Grüße von Eurem Buchjunkie ND
Manches Mal sitzt man während der Feiertage zwischen der buckligen Verwandtschaft und hat weder ein Buch geschenkt bekommen, noch genug Lektüre eingepackt.
Das ist ärgerlich! Aber dank vieler Onlinehändler mit den verschiedensten Ebooks kann man sich auch während der Feiertage mit Lesestoff versorgen.
Pünktlich zum Fest bringt Horus W. Odenthal seinen neuesten Roman heraus: Homunuklus (Amazon-Partnerlink).
Wenn ich nicht gerade wieder gnadenlos in tollen Büchern untergehen würde, hätte ich mir das Buch mit Sicherheit schon geholt. Der Inhalt:
"Danak ist Milizionärin. Um die Straßen von Rhun für die Bürger sicher zu halten, geht sie wenn nötig mit harter Hand vor. Aber die Zeiten haben sich geändert. Rhun ist eine besetzte Stadt.
Während die nichtmenschlichen Eroberer von Rhun in ihren Kastellen Ränke schmieden, gefährliche Kreaturen in der Stadt umgehen und eine tödliche Droge unter der Bevölkerung wütet, versucht Danak ihrem Auftrag treu zu bleiben. Doch bald weiß sie nicht länger, auf welcher Seite sie eigentlich steht."
klingt schon sehr spannend und nach einer wunderbaren Mischung aus Fantasy und Thriller.
Auch dieses Buch spielt in der gleichen Welt wie des Autors bekannte Ninragon (Amazon-Partnerlink)-Reihe.
Ich wünsche dem Autor an dieser Stelle viel Erfolgt mit seinem neuesten Roman und hoffe mich auch bald in seinen Bann ziehen lassen zu können.
Frohe Weihnachten,
Euer Buchjunkie nef
Heute möchte ich euch eine neue Urban Fantasy Reihe vorstellen, die ich zwar selbst noch nicht gelesen habe, sich aber sehr vielversprechend anhört: Die Mystwalker-Reihe von Leigh Evans. Und für alle Interessierten gibt es gleich mehrere Bücher zu gewinnen. Doch erst einmal zum Inhalt: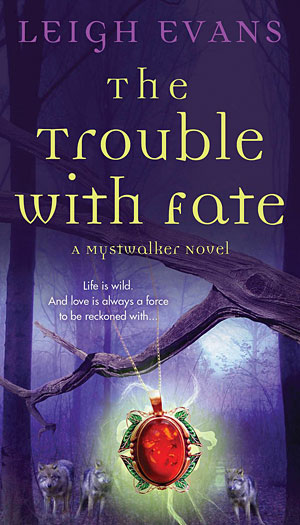 Meet Hedi Peacock. She's half Fae. Half Were. And all trouble...
I Have Two Words For Werewolves:
My name is Hedi Peacock and I have a secret. I'm not human, and I have the pointy Fae ears and Were inner-bitch to prove it. As fairy tales go, my childhood was damn near perfect, all fur and magic until a werewolf killed my father and the Fae executed my mother. I've never forgiven either side. Especially Robson Trowbridge. He was a part-time werewolf, a full-time bastard, and the first and only boy I ever loved. That is, until he became the prime suspect in my father?s death...
Bite Me.
Today I'm a half-breed barista working at a fancy coffee house, living with my loopy Aunt Lou and a temperamental amulet named Merry, and wondering where in the world I'm going in life. A pretty normal existence, considering. But when a pack of Weres decides to kidnap my aunt and force me to steal another amulet, the only one who can help me is the last person I ever thought I'd turn to: Robson Trowbridge. And he's as annoyingly beautiful as I remember. That's the trouble with fate: Sometimes it barks. Other times it bites. And the rest of the time it just breaks your heart. Again...
Mehr Infos zum ersten Buch dieser Reihe findet ihr auf Goodreads und Amazon.
Love is like a wild animal. It can't be tamed...
The Heart is a Lonely Hunter
In the never-ending saga that is my love-hate relationship with Robson Trowbridge, I, half-Were Hedi Peacock, have had a change of heart. Ever since I shoved Trowbridge through the Gates of Merenwyn, I've been the leader of the pack - hard to believe, right? The thing is: I'm half-Fae. So even though my Were side is ready to heed the call of the wild, the other part of me is desperate to take flight. And much as it pains me to admit it, life without Trowbridge is really starting to were me down...
I Am Were, Hear Me Roar.
To make matters worse, the wolves of Creemore want my blood - and the North American Council of Weres wants me dead. So I'm just counting the days until Trowbridge returns from the other realm...and comes to my brave rescue...and becomes my alpha mate. Wishful thinking? Of course it is. But given all the mess I've been through already, what's the harm in doing a little bit of daisy-plucking? Besides, Trowbridge owes me bigtime. A girl can dream.
Mehr Infos zum zweiten Buch dieser Reihe findet ihr auf Goodreads und Amazon.
Alles Weitere, sowie einen kleinen Auszug aus The Trouble With Fate findet ihr auf Leigh Evans Autorenseite auf unserem Blog.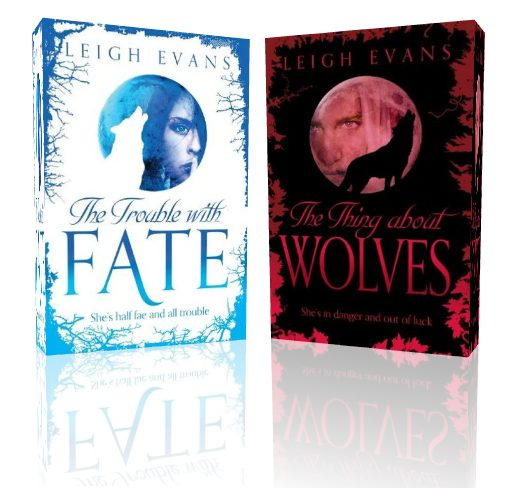 Wie versprochen gibt es auch einen Giveaway (nicht von Buchjunkies veranstaltet):
*Erster Preis*
Signed UK-version of The Trouble With Fate (Mystwalker #1)
Signed UK-version of The Thing About Weres (Mystwalker #2)
Signed book plate
Mystwalker swag
*Zweiter Preis*
Paperback copies of The Trouble With Fate & The Thing About Weres (1 each, US covers)
1 signed book plate
Mystwalker swag
a Rafflecopter giveaway
Viele Grüße und viel Glück,
Euer Buchjunkie ND
« Zurück | Seite: 1 2 3 4 5 6 7 8 9 10 11 12 13 14 15 16 17 18 19 20 21 22 23 24 25 26 27 28 29 30 31 32 33 | Weiter »
Bewertungen
| | |
| --- | --- |
| | (318) |
| | (333) |
| | (376) |
| | (186) |
| | (123) |
| | (54) |
| | (45) |
| | (16) |
| | (11) |
Besucher
Heute: 432
Dieser Monat: 13110
Insgesamt: 3749022