---
---
News
136 - 140 von 178 News auf der Seite.
Six of Hearts / Six of Hearts - Verzauber mich war eines meiner Highlights diesen Jahres. Heute möchte ich Euch das neue Buch einer meiner absoluten Lieblingsautorinnen und die indirekte Fortsetzung von Six of Hearts / Six of Hearts - Verzauber mich vorstellen - Hearts of Fire von L. H. Cosway.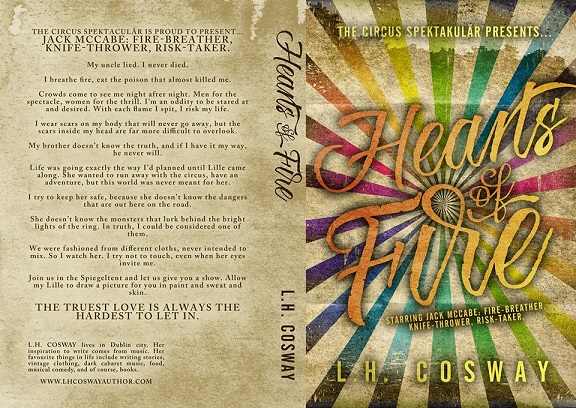 Klappentext:
The Circus Spektakulär is proud to present Jack McCabe: Fire-breather, knife-thrower, risk-taker.
My uncle lied. I never died.
I breathe fire, eat the poison that almost killed me.
Crowds come to see me night after night. Men for the spectacle, women for the thrill. I'm an oddity to be stared at and desired. With each flame I spit, I risk my life.
I wear scars on my body that will never go away, but the scars inside my head are far more difficult to overlook.
My brother doesn't know the truth, and if I have it my way, he never will.
Life was going exactly the way I'd planned until Lille came along. She wanted to run away with the circus, have an adventure, but this world was never meant for her.
I try to keep her safe, because she doesn't know the dangers that are out here on the road. She doesn't know the monsters that lurk behind the bright lights of the ring. In truth, I could be considered one of them.
We were fashioned from different cloths, never intended to mix. So I watch her. I try not to touch, even when her eyes invite me.
Join us in the Spiegeltent and let us give you a show. Allow my Lille to draw a picture for you in paint and sweat and skin.
The truest love is always the hardest to let in.
***
Eine kleine Leseprobe haben wir auch noch für Euch:
Before I knew it I was standing and a spotlight had landed on me, alongside Jack's dark, indecipherable gaze. I stood frozen for a moment, uncertain of what to do. Then Marina was calling me to the stage and my feet were moving, one after the other, the traitorous bastards.
Jack held his hand out to me when I reached him and I placed my palm in his. Without realising it, I'd given him my right hand, my dominant hand, and also the hand that had been burned. When he gripped it, I hissed in a tiny breath at the sting.
"Sorry," he murmured, but he didn't sound sorry.
"It's okay," I replied as he led me to an upright wooden panel. Taking my shoulders in his big, warm hands, he gently situated me against it, my back flush with the wood.
"I hope you're good at holding still," he said and his breath hit the side of my neck.
"Why?" I practically whispered. He was incredibly handsome, even more so now that I was seeing him up close, and I felt a little drunk on it.
The edge of his mouth twitched, like he was holding back a smile. With one hand braced above my shoulder, he leaned in as he replied, "Because, blondie, I'm gonna be throwing knives at you, and I'd really hate to make you bleed."
Again, he didn't sound like he meant what he said at all. And I didn't think there was a single pore on my body that wasn't tingling. I remembered items number three and four on my list: Have sex with a stranger and do something dangerous. Perhaps if I could get Jack McCabe to do me, then I could kill two birds with one stone.
I hadn't noticed before, because I was too busy staring at him, but there was a belt attached to the wood. I stood there as Jack took it and buckled it extra tight around my waist. He gave it a firm tug once he was done and smirked. I'm not sure why, but the action caused me to tremble. I think he noticed, too, because his eyes grew darker, if that was even possible.
Surprising me, he placed his flattened out palm to my belly. I had to try my hardest to concentrate on his words rather than the fact that my libido (the little slut) was willing his hand to move lower.
"This is your core. Visualise it. Focus on it. Keep your body in this exact position and everything will be fine." There was the tiniest edge of a smile tugging at his lips and it made me wonder if he was enjoying this, if maybe he was trying to make me nervous.
Sucking in a breath, he continued randomly, "You smell like turpentine." Then he drew up to his full and impressive height and walked to the other side of the stage. I knew I smelled like turpentine, because I often used it to clean my paintbrushes and sometimes the smell got into my clothes. That wasn't the part that preoccupied me, that part would be the fact that he'd taken the time to smell me, and I didn't know if I should be weirded out or turned on.
Okay, so I knew which option my libido was going for.
Hier könnt ihr gleich noch ein Ebook dazu gewinnen!
Ich bin schon sehr gespannt darauf, wie L. H. Cosway die Geschichte von Jays Bruder Jack weiterspinnen wird. Wenn sie auch nur halb so gut wird, wie Six of Hearts / Six of Hearts - Verzauber mich, bin ich zufrieden. ;)
Alle weiteren Information zu diesen Büchern, L. H. Cosway selbst und ihren anderen Büchern findet ihr hier auf unserem Blog, auf ihrer Homepage, auf Facebook oder auf ihrer Goodreads-Seite.
Hearts of Fire erscheint im März 2015.
Viele Grüße von Eurem Buchjunkie ND
Ihr Lieben,
in Berlin findet derzeitig eine fast neue Buchmesse statt.
Ergreift die Chance heute noch bis 20 Uhr und morgen von 10 Uhr bis 18 Uhr in der Hochschule für Technik und Wirtschaft in der Treskowalle Autoren und Verlage zu treffen und euch über neue Bücher zu informieren.
Plauscht mit den Autoren, informiert euch über Verlage und wohnt Lesungen bei. Einen kleinen Bericht gibt es bereits jetzt für euch - Buch Berlin am 15.11.2014.
Also - auf zur Messe!
Ganz liebe Grüße,
Euer Buchjunkie nef
Halloween steht vor der Tür!
Zur Feier des Tages haben sich 13 Autorinnen zusammen getan, um eine Anthologie zu schaffen, die sich rund um das Thema Humor, Grusel und Romantik dreht. Und das Beste: Der komplette Erlös geht an das St. Jude Children's Research Hospital, einem Krankenhaus, dass sich auf Kinderkrankheiten und Forschung spezialisiert hat - auch die Einnahmen aus Deutschland.
Folgende Autoren und Geschichten sind mit von der Partie: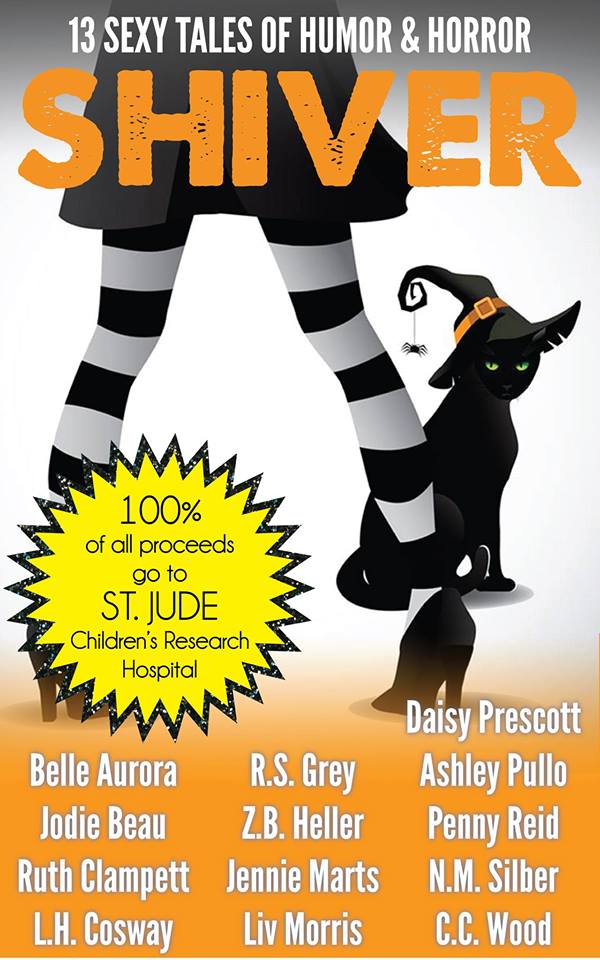 Bewitched by Daisy Prescott
A crush. A love spell. What could go wrong?
Better The Devil You Know by Belle Aurora
  When you know, you know.
Mystery, Mazto Balls, and Moxie by Z.B. Heller
A mystery weekend gets steamy and stuffed... with food.
Spandex is for Superheros by Ruth Clampett
Beware of the terror of your Halloween costume not fitting.
A Halloween Hook-up by Jennie Marts
A sexy physic and a private eye solve a ghostly murder.
Macabre Magic by L. H. Cosway
Halloween, a bet, one spooky magic trick. (Begleitgeschichte zu Six of Hearts / Six of Hearts - Verzauber mich)
Candy, Dentures, and Way Too Much Spandex by R.S. Grey
He stole my heart in between gyrating geriatrics.
Peckers by Liv Morris
A hot cop with handcuffs and a dimpled smile can be frighteningly sexy.
One Little Bite by C.C. Wood
Even the big, bad wolf can fall in love.
Double Dare by Penny Reid
Never play truth or dare with identical twins.
Red Rum by Ashley Pullo
Trick o' treat, a girl to meet, blood sangria wicked sweet.
Lights Out by Jodie Beau
A single mom, a single dad, a common enemy. Will their feelings come to light on Halloween?
Nightmare in Night Court by N.M. Silber 
Lusty lawyers meet creepy criminals.
Einen Trailer gibt es ebenfalls für dieses Buch, der die teilweise richtig schönen einzelnen Cover für die Kurzgeschichten zeigt:

Und zum Abschluss gibt es auch noch ein Gewinnspiel, bei dem man Swag Bags mit viel spannendem Inhalt gewinnen kann:
a Rafflecopter giveaway
Seit heute ist die Anthologie wie gesagt als E-Book zu haben. Hier findet ihr das Buch auf Amazon (Amazon-Partnerlink).
Liebe Grüße von Eurem Buchjunkie
ND
Mittlerweile ist Jennifer L. Armentrout ja auch aus deutschen Bücherregalen nicht mehr wegzudenken. Auch ihre Wait For You Reihe hat es bis zu uns geschafft. Davon kommt in den USA am 31. März 2015 bereits der vierte Teil heraus - Fall With Me!
Das Cover und den Klappentext haben wir heute schon ganz exklusiv für Euch: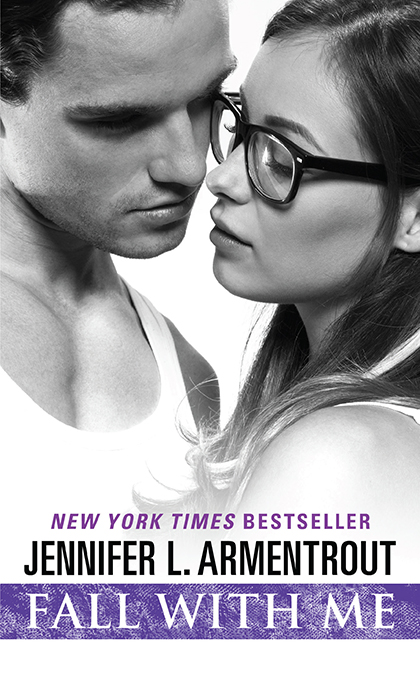 Klappentext:
Eleven months ago, bartender and weird-shirt-wearing extraordinaire Roxy and Officer Reece Anders had a one night stand. Well, kind of. She's been in love with him since she was fifteen, and he wishes that night they shared never happened. She's sworn him off forever, but the past and future collide, forcing her to rely on the one man who broke her heart not once, but twice.
Her best friend since birth has been in a long-term care facility since he became a victim of a hate crime years ago, and the person who put him in there is out of prison and wanting to make amends with him and Roxy. She's not sure she has room for forgiveness in her and when she begins to receive frightening messages and is on the receiving end of escalating violence, she thinks she knows who is to blame. The man who already destroyed one life already.
But Reece isn't convinced. The threats are too personal, and even if Roxy doesn't believe him, he's not willing to let anyone hurt her. Including himself. He's already messed up more than once when it comes to Roxy and he's not going to let history repeat itself.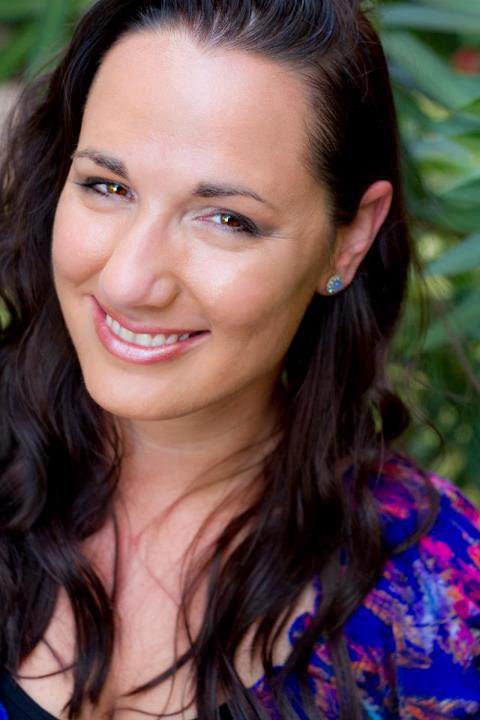 ~~~
Ich weiß, jetzt würde normalerweise eine Leseprobe kommen, aber leider ist es dafür noch etwas zu früh und ihr müsst euch noch ein bisschen gedulden. ;)
Aber ich bin dennoch bereits sehr neugierig auf Fall With Me von Jennifer L. Armentrout. Ich liebe ja Liebesgeschichten, die sie über Jahre entwickeln - da scheine ich hier an der richtigen Adresse zu sein.
Ihr könnt Fall With Me übrigens bereits hier bei Amazon (Amazon-Partnerlink) vorbestellen. Weitere Links und Informationen könnt ihr auf den folgenden Seiten der Autorin finden:
Homepage
Goodreads
Facebook
und Twitter
Viel Spaß beim Lesen und Stöbern!
Liebe Grüße von Eurem Buchjunkie ND
« Zurück | Seite: 1 2 3 4 5 6 7 8 9 10 11 12 13 14 15 16 17 18 19 20 21 22 23 24 25 26 27 28 29 30 31 32 33 34 35 36 | Weiter »
Bewertungen
| | |
| --- | --- |
| | (329) |
| | (334) |
| | (380) |
| | (187) |
| | (124) |
| | (57) |
| | (45) |
| | (16) |
| | (11) |
Besucher
Heute: 363
Dieser Monat: 16793
Insgesamt: 3971145