---
---
News
131 - 135 von 177 News auf der Seite.
Series: Love in London #2
Release Date: February 26, 2015
Lara knows she should feel lucky. Married to the man of her dreams, with a gorgeous new baby, she should be enjoying her happy-ever-after. But she never expected motherhood to be so difficult, or for her life to change so dramatically.
Alex has it all: hot, tattooed looks, a beautiful wife, and a band that's finally getting noticed. A lucrative offer of a US tour should be the icing on the cake. But as he leaves the country, distance isn't the only thing that starts to pull their relationship apart.
With half a world dividing them, Alex and Lara have to battle for a marriage they once took for granted.
Broken Chords is the second story in the Love in London series but can be read completely as a stand-alone. 
Though it's a series, it's not a serial and there are no cliffhangers, each book features a different couple!
?What caused that smile, gorgeous?? Alex moves back towards me, pulling me into his free arm. His hand cups my hip, fingers digging in deliciously as he bends his head to my neck and presses his lips there. I breathe him in, fresh and clean from a shower, hair glistening and moulded into an almost quiff.
He?s all gel and rolled-up sleeves. There?s no collar on his t-shirt, so I can see the dark inked scrolls that lick up from his chest and shoulders peeking out from the material. Even though Max is in his arms, I can?t help but trace them with my fingers, feeling him tense up as I flutter my hand against his skin.
?Maybe Max should have a nap.? Alex?s voice is thick. ?He seems really tired.?
Max starts babbling again; sleep is clearly the furthest thing from his mind.
?He?s not due another nap until this evening.? I try not to laugh at the disappointment on Alex?s face. He stares at me through narrowed eyes, and I smile in response. I?m caught somewhere in the middle of turned-on and amused.
?He seems really tired,? Alex repeats. ?And those lips of yours look really empty.?
I know where he?s going with this; I feel like playing.
?They are. Really empty. Desperate to be filled.?
?Then put the baby to bed,? he growls.
I lean forward and press my mouth to Alex?s. He kisses me back, his movements heated. Cupping my chin, he angles my head, slowly running his tongue along the seam of my lips. ?Put the baby to bed, now, Lara.?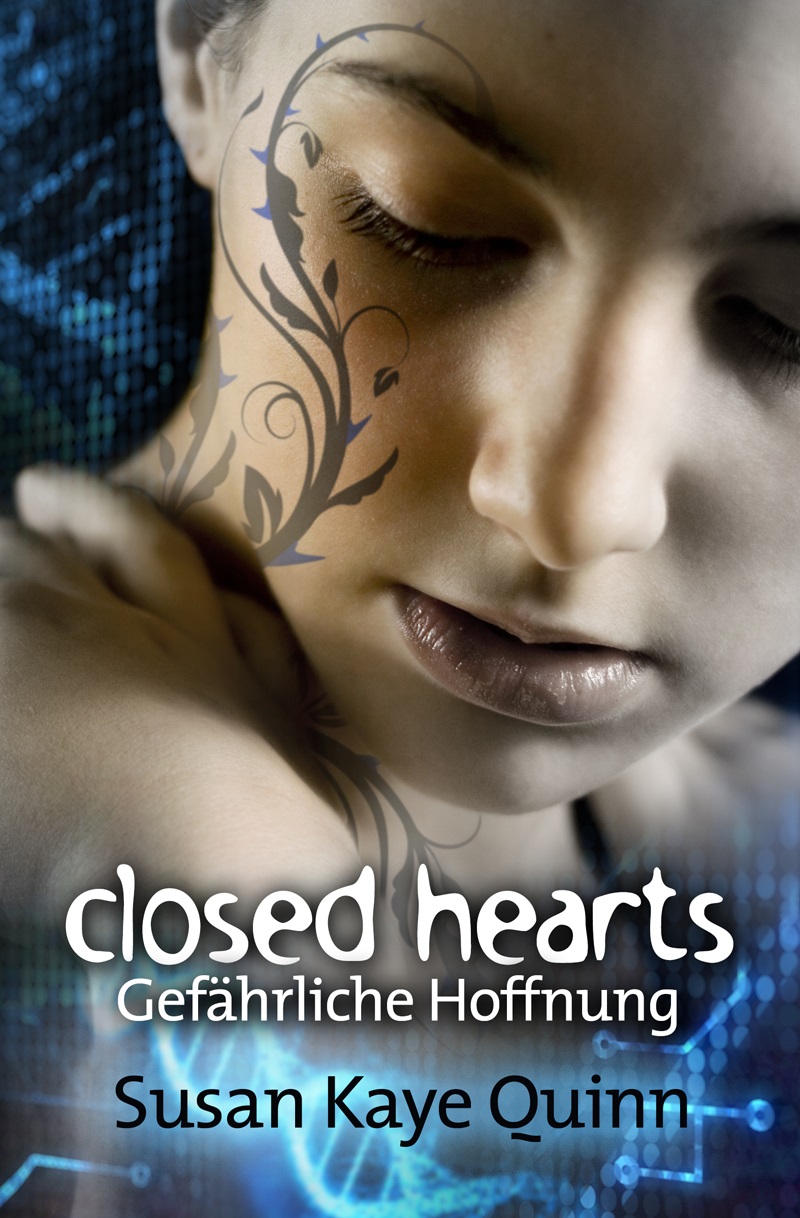 Heute erscheint der zweite Band der 2. Band der Mindjack Trilogy auf Deutsch unter dem Titel Closed Hearts - Gefährliche Hoffnung. Meine Rezi dazu findet sich hier: Closed Hearts / Gefährliche Hoffnung.
Ja, es ist schon etwas länger her, seit ich das Buch gelesen habe, aber ich erinnere mich noch gut daran wie sehr sich Kira in diesem zweiten Band weiterentwickelt hat. Von dem Versuch, ein normales Leben zu wollen bis hin zur Akzeptanz, dass dies wohl nie passeren wird. Dazu die Probleme mit Rafe und das Kennenlernen so vieler weitere Mindjacker.
Eine tolle Serie, von bestimmt auch der Abschlussband bald auf deutsch erhältlich sein wird.
Ihre Lieben!
Wir hoffen, Ihr seid alle gut ins neue Jahr gestartet?!
Für 2015 wünschen wir euch viele gute Bücher, lange Lesestunden und viel Spaß auch weiterhin mit unseren Rezensionen!
Alles Liebe wünschen Eure Buchjunkies,
nia, nef und ND
Liebe Blogleser, liebe Besucher, liebe Verlage,
wieder neigt sich ein Jahr dem Ende und wir wollen uns für Eure Treue und Eure Unterstützung bedanken.
2014 war für uns ein Jahr mit Neuerungen, Umstellungen, sowie Höhen und auch Tiefen. Wir hoffen Ihr seit auch im nächsten Jahr wieder bei uns und freut Euch ebenso wie wir auf tolle neue Bücher und Eindrücke.
Wir wünschen Euch und Euren Familien ein gesegnetes Weihnachtsfest, tolle Bücher unter dem Christbaum und einen guten Rutsch ins neue Jahr.
Viele liebe Grüße senden Euch Eure Buchjunkies,
ND, nia und nef
Six of Hearts / Six of Hearts - Verzauber mich war eines meiner Highlights diesen Jahres. Heute möchte ich Euch das neue Buch einer meiner absoluten Lieblingsautorinnen und die indirekte Fortsetzung von Six of Hearts / Six of Hearts - Verzauber mich vorstellen - Hearts of Fire von L. H. Cosway.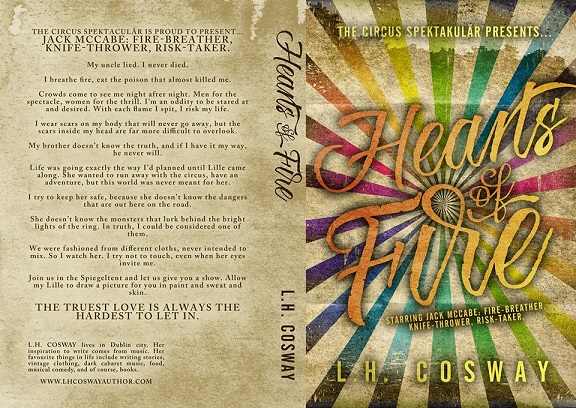 Klappentext:
The Circus Spektakulär is proud to present Jack McCabe: Fire-breather, knife-thrower, risk-taker.
My uncle lied. I never died.
I breathe fire, eat the poison that almost killed me.
Crowds come to see me night after night. Men for the spectacle, women for the thrill. I'm an oddity to be stared at and desired. With each flame I spit, I risk my life.
I wear scars on my body that will never go away, but the scars inside my head are far more difficult to overlook.
My brother doesn't know the truth, and if I have it my way, he never will.
Life was going exactly the way I'd planned until Lille came along. She wanted to run away with the circus, have an adventure, but this world was never meant for her.
I try to keep her safe, because she doesn't know the dangers that are out here on the road. She doesn't know the monsters that lurk behind the bright lights of the ring. In truth, I could be considered one of them.
We were fashioned from different cloths, never intended to mix. So I watch her. I try not to touch, even when her eyes invite me.
Join us in the Spiegeltent and let us give you a show. Allow my Lille to draw a picture for you in paint and sweat and skin.
The truest love is always the hardest to let in.
***
Eine kleine Leseprobe haben wir auch noch für Euch:
Before I knew it I was standing and a spotlight had landed on me, alongside Jack's dark, indecipherable gaze. I stood frozen for a moment, uncertain of what to do. Then Marina was calling me to the stage and my feet were moving, one after the other, the traitorous bastards.
Jack held his hand out to me when I reached him and I placed my palm in his. Without realising it, I'd given him my right hand, my dominant hand, and also the hand that had been burned. When he gripped it, I hissed in a tiny breath at the sting.
"Sorry," he murmured, but he didn't sound sorry.
"It's okay," I replied as he led me to an upright wooden panel. Taking my shoulders in his big, warm hands, he gently situated me against it, my back flush with the wood.
"I hope you're good at holding still," he said and his breath hit the side of my neck.
"Why?" I practically whispered. He was incredibly handsome, even more so now that I was seeing him up close, and I felt a little drunk on it.
The edge of his mouth twitched, like he was holding back a smile. With one hand braced above my shoulder, he leaned in as he replied, "Because, blondie, I'm gonna be throwing knives at you, and I'd really hate to make you bleed."
Again, he didn't sound like he meant what he said at all. And I didn't think there was a single pore on my body that wasn't tingling. I remembered items number three and four on my list: Have sex with a stranger and do something dangerous. Perhaps if I could get Jack McCabe to do me, then I could kill two birds with one stone.
I hadn't noticed before, because I was too busy staring at him, but there was a belt attached to the wood. I stood there as Jack took it and buckled it extra tight around my waist. He gave it a firm tug once he was done and smirked. I'm not sure why, but the action caused me to tremble. I think he noticed, too, because his eyes grew darker, if that was even possible.
Surprising me, he placed his flattened out palm to my belly. I had to try my hardest to concentrate on his words rather than the fact that my libido (the little slut) was willing his hand to move lower.
"This is your core. Visualise it. Focus on it. Keep your body in this exact position and everything will be fine." There was the tiniest edge of a smile tugging at his lips and it made me wonder if he was enjoying this, if maybe he was trying to make me nervous.
Sucking in a breath, he continued randomly, "You smell like turpentine." Then he drew up to his full and impressive height and walked to the other side of the stage. I knew I smelled like turpentine, because I often used it to clean my paintbrushes and sometimes the smell got into my clothes. That wasn't the part that preoccupied me, that part would be the fact that he'd taken the time to smell me, and I didn't know if I should be weirded out or turned on.
Okay, so I knew which option my libido was going for.
Hier könnt ihr gleich noch ein Ebook dazu gewinnen!
Ich bin schon sehr gespannt darauf, wie L. H. Cosway die Geschichte von Jays Bruder Jack weiterspinnen wird. Wenn sie auch nur halb so gut wird, wie Six of Hearts / Six of Hearts - Verzauber mich, bin ich zufrieden. ;)
Alle weiteren Information zu diesen Büchern, L. H. Cosway selbst und ihren anderen Büchern findet ihr hier auf unserem Blog, auf ihrer Homepage, auf Facebook oder auf ihrer Goodreads-Seite.
Hearts of Fire erscheint im März 2015.
Viele Grüße von Eurem Buchjunkie ND
« Zurück | Seite: 1 2 3 4 5 6 7 8 9 10 11 12 13 14 15 16 17 18 19 20 21 22 23 24 25 26 27 28 29 30 31 32 33 34 35 36 | Weiter »
Bewertungen
| | |
| --- | --- |
| | (324) |
| | (333) |
| | (377) |
| | (187) |
| | (123) |
| | (56) |
| | (45) |
| | (16) |
| | (11) |
Besucher
Heute: 784
Dieser Monat: 11263
Insgesamt: 3864567