---
---
News
156 - 160 von 178 News auf der Seite.
Manches Mal sitzt man während der Feiertage zwischen der buckligen Verwandtschaft und hat weder ein Buch geschenkt bekommen, noch genug Lektüre eingepackt.
Das ist ärgerlich! Aber dank vieler Onlinehändler mit den verschiedensten Ebooks kann man sich auch während der Feiertage mit Lesestoff versorgen.
Pünktlich zum Fest bringt Horus W. Odenthal seinen neuesten Roman heraus: Homunuklus (Amazon-Partnerlink).
Wenn ich nicht gerade wieder gnadenlos in tollen Büchern untergehen würde, hätte ich mir das Buch mit Sicherheit schon geholt. Der Inhalt:
"Danak ist Milizionärin. Um die Straßen von Rhun für die Bürger sicher zu halten, geht sie wenn nötig mit harter Hand vor. Aber die Zeiten haben sich geändert. Rhun ist eine besetzte Stadt.
Während die nichtmenschlichen Eroberer von Rhun in ihren Kastellen Ränke schmieden, gefährliche Kreaturen in der Stadt umgehen und eine tödliche Droge unter der Bevölkerung wütet, versucht Danak ihrem Auftrag treu zu bleiben. Doch bald weiß sie nicht länger, auf welcher Seite sie eigentlich steht."
klingt schon sehr spannend und nach einer wunderbaren Mischung aus Fantasy und Thriller.
Auch dieses Buch spielt in der gleichen Welt wie des Autors bekannte Ninragon (Amazon-Partnerlink)-Reihe.
Ich wünsche dem Autor an dieser Stelle viel Erfolgt mit seinem neuesten Roman und hoffe mich auch bald in seinen Bann ziehen lassen zu können.
Frohe Weihnachten,
Euer Buchjunkie nef
Heute möchte ich euch eine neue Urban Fantasy Reihe vorstellen, die ich zwar selbst noch nicht gelesen habe, sich aber sehr vielversprechend anhört: Die Mystwalker-Reihe von Leigh Evans. Und für alle Interessierten gibt es gleich mehrere Bücher zu gewinnen. Doch erst einmal zum Inhalt: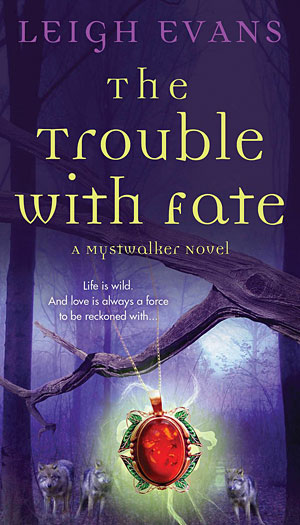 Meet Hedi Peacock. She's half Fae. Half Were. And all trouble...
I Have Two Words For Werewolves:
My name is Hedi Peacock and I have a secret. I'm not human, and I have the pointy Fae ears and Were inner-bitch to prove it. As fairy tales go, my childhood was damn near perfect, all fur and magic until a werewolf killed my father and the Fae executed my mother. I've never forgiven either side. Especially Robson Trowbridge. He was a part-time werewolf, a full-time bastard, and the first and only boy I ever loved. That is, until he became the prime suspect in my father?s death...
Bite Me.
Today I'm a half-breed barista working at a fancy coffee house, living with my loopy Aunt Lou and a temperamental amulet named Merry, and wondering where in the world I'm going in life. A pretty normal existence, considering. But when a pack of Weres decides to kidnap my aunt and force me to steal another amulet, the only one who can help me is the last person I ever thought I'd turn to: Robson Trowbridge. And he's as annoyingly beautiful as I remember. That's the trouble with fate: Sometimes it barks. Other times it bites. And the rest of the time it just breaks your heart. Again...
Mehr Infos zum ersten Buch dieser Reihe findet ihr auf Goodreads und Amazon.
Love is like a wild animal. It can't be tamed...
The Heart is a Lonely Hunter
In the never-ending saga that is my love-hate relationship with Robson Trowbridge, I, half-Were Hedi Peacock, have had a change of heart. Ever since I shoved Trowbridge through the Gates of Merenwyn, I've been the leader of the pack - hard to believe, right? The thing is: I'm half-Fae. So even though my Were side is ready to heed the call of the wild, the other part of me is desperate to take flight. And much as it pains me to admit it, life without Trowbridge is really starting to were me down...
I Am Were, Hear Me Roar.
To make matters worse, the wolves of Creemore want my blood - and the North American Council of Weres wants me dead. So I'm just counting the days until Trowbridge returns from the other realm...and comes to my brave rescue...and becomes my alpha mate. Wishful thinking? Of course it is. But given all the mess I've been through already, what's the harm in doing a little bit of daisy-plucking? Besides, Trowbridge owes me bigtime. A girl can dream.
Mehr Infos zum zweiten Buch dieser Reihe findet ihr auf Goodreads und Amazon.
Alles Weitere, sowie einen kleinen Auszug aus The Trouble With Fate findet ihr auf Leigh Evans Autorenseite auf unserem Blog.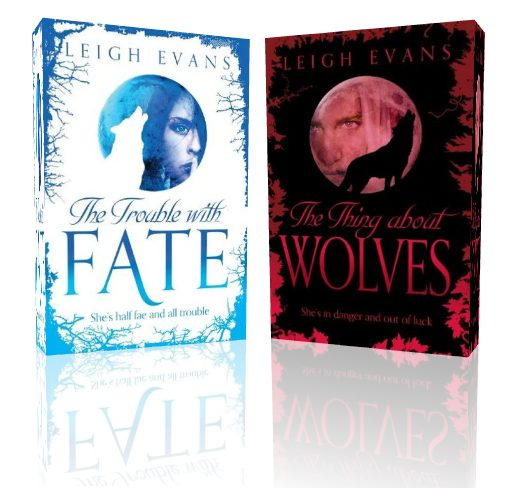 Wie versprochen gibt es auch einen Giveaway (nicht von Buchjunkies veranstaltet):
*Erster Preis*
Signed UK-version of The Trouble With Fate (Mystwalker #1)
Signed UK-version of The Thing About Weres (Mystwalker #2)
Signed book plate
Mystwalker swag
*Zweiter Preis*
Paperback copies of The Trouble With Fate & The Thing About Weres (1 each, US covers)
1 signed book plate
Mystwalker swag
a Rafflecopter giveaway
Viele Grüße und viel Glück,
Euer Buchjunkie ND
Heute haben wir wieder eine Cover Enthüllung für Euch: Dieses Mal zu The Devil's Reprise von Karina Halle, dem zweiten und damit letzten Teil ihrer Devils-Reihe.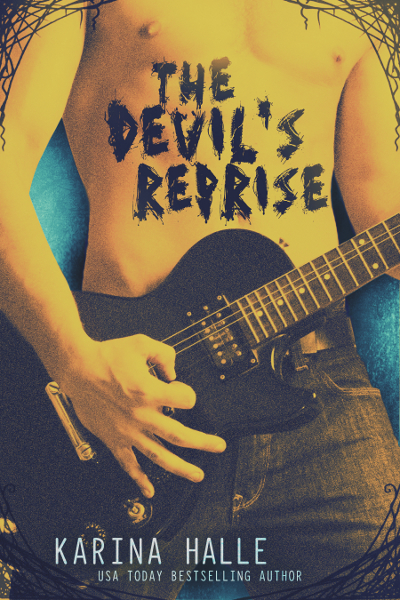 Klappentext:
Given a second chance, music journalist Dawn Emerson and guitarist Sage Knightly are reunited, only to have their lives threatened again by a demonic bargain. The sequel to The Devil's Metal, from USA Today bestselling author Karina Halle.
When Dawn Emerson got the chance to go on tour with her favorite metal band, Hybrid, she thought she landed the writing gig of the century. But what started off as a dream for the budding music journalist quickly turned into a nightmare that she and guitarist Sage Knightly barely escaped alive.
Now, months after they went their separate ways, Sage invites Dawn to accompany him on his first solo tour across Europe and write about it for Creem Magazine. But like the last tour, nothing is as easy as it seems. Sage is a broken man on the path to self-destruction and Dawn isn't sure if she's the right person to save him. And aside from having to pick up the pieces of their burgeoning relationship, they have to negotiate the mysterious new photographer assigned to Dawn's story, as well as vindictive promoters and demonic groupies they thought they'd never see again.
Because this time, it's Dawn who made a deal with the devil and the only thing worse than having to uphold a bargain with the prince of darkness is not remembering how you're supposed to pay it back.
It may be with their souls.
Und wieder einmal ein Buch von Karina Halle, das sofort gelesen werden will. :)
The Devil's Reprise erscheint am 29. Oktober 2013. Alle weiteren Informationen, sowie Links zur Vorbestellung findet ihr entweder unter Goodreads oder hier.
Viele Grüße von Euren Buchjunkies
Ich bequassel Euch ja nun schon längere Zeit mit Karina Halle, einer meiner absoluten Lieblingsautorinnen. Heute darf ich Euch auch noch ganz exklusiv das Cover zu Ashes to Ashes (Design: Najla Qamber), dem 8. und vorletzten Band der Experiment in Terror-Reihe, vorstellen: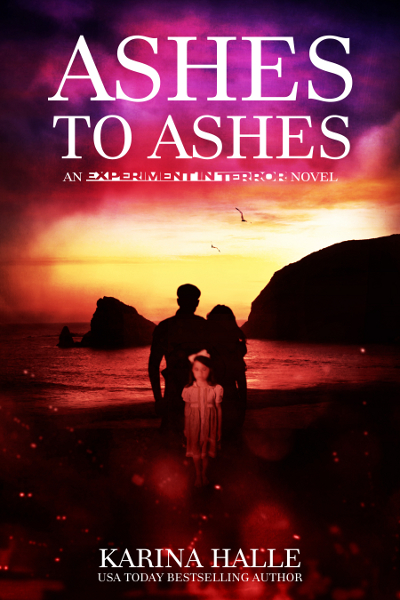 Klappentext:
It's been two months since Perry Palomino and Dex Foray's relationship reached a new turning point, two months since Perry started a new life in Seattle, and two months since their Experiment in Terror show took on a new partner, ex-Wine Babe Rebecca Sims, and a newfound level of success. But whenever there is light in their lives, the madness still has a way of coming back in.
When the team is sent back to the stormy Oregon coast to investigate a haunted school, Perry wants to use the opportunity to reconnect with her family and reintroduce Dex into their lives. Only Perry's not the only one who's reaching out - her grandmother Pippa has started appearing to her with disturbing warnings and Perry's presence at the school has ignited a chilling new wave of supernatural phenomenon. Once used a century ago as a sanatorium to house children dying of tuberculosis, the school's past residents are slowly coming back to life and with one thing on their mind: They want someone to play with, someone to join them. Forever.
Even when dead, some children get whatever they want.
And they want Perry.
Gruseliger geht's wohl kaum... Ich jedenfalls freue mich schon wie verrückt auf dieses Buch. Ein Weilchen muss ich mich aber noch gedulden, denn Ashes to Ashes erscheint erst am 11. Dezember 2013.
Falls ihr diese Reihe noch nicht kennt, jetzt aber Interesse daran gefunden habt, gibt es das erste Buch Darkhouse kostenlos als E-Book auf Amazon (Amazon-Partnerlink).
Alle weiteren Information zu dieser Reihe, der Autorin und ihren anderen Büchern findet ihr hier auf unserem Blog oder auf ihrer Goodreads-Seite.
« Zurück | Seite: 1 2 3 4 5 6 7 8 9 10 11 12 13 14 15 16 17 18 19 20 21 22 23 24 25 26 27 28 29 30 31 32 33 34 35 36 | Weiter »
Bewertungen
| | |
| --- | --- |
| | (326) |
| | (334) |
| | (379) |
| | (187) |
| | (123) |
| | (57) |
| | (45) |
| | (16) |
| | (11) |
Besucher
Heute: 928
Dieser Monat: 28917
Insgesamt: 3948731