---
---
News
31 - 35 von 107 News auf der Seite.
Liebe Blogleser,
heute haben wir etwas ganz Besonderes für all diejenigen unter Euch, die Thriller und Berlin - vor allem in Kombination - mögen! Am 02. Juli 2016 lesen Ule Hansen um 18:00 Uhr in dem schönen Theater von Dieter Hallervorden, Die Wühlmäuse, aus ihrem gemeinsamen Buch Neuntöter (keine Rezension). Und ihr könnt dabei sein!
Bereits im März hatte ich die Chance das Autorenduo kennen lernen zu dürfen und bin ganz angetan von ihnen. Die Berichte dazu könnt ihr hier: Berlintour mit dem Autorenduo Ule Hansen am 06.03.2016 und hier: Ule Hansen liest in der Joseph-Roth-Diele in Berlin am 08.03.2016 noch einmal nachlesen.
Für Euch, liebe Berliner Blogleser oder bloglesenden Berlinbesucher, hat das Autorenduo nun ein Schmankerl. Ihr bekommt die Karten 40% ermäßigt, für 8 EUR, und könnt einer unterhaltsamen und spannenden Lesung beiwohnen.
Was ihr dafür tun müsst? Kommentiert Euren Namen unter diesem Beitrag bis zum 25.06.2016 (oder bis das Kontingent erschöpft ist) und hüpft damit auf die Gästeliste.
Damit ihr aber nicht mit leeren Händen zur Lesung gehen müsst, verlosen wir ein Exemplar des Romans Neuntöter (keine Rezension) unter allen die sich zur Lesung anmelden.
Besucht auch mal die Facebook-Seite der Beiden unter Ule Hansen und lernt sie kennen.
Lasst Euch das Event nicht entgehen, ich verspreche Euch, ihr werdet es nicht bereuen =o)
Ganz liebe Grüße,
Euer Buchjunkie nef
Endlich gibt es nun Neuigkeiten von The Debt, dem nächsten Buch von Karina Halle über die Männer des McGregor Clans. Heute dürfen wir euch endlich das Cover und einen etwas ausführlicheren Klappentext zeigen: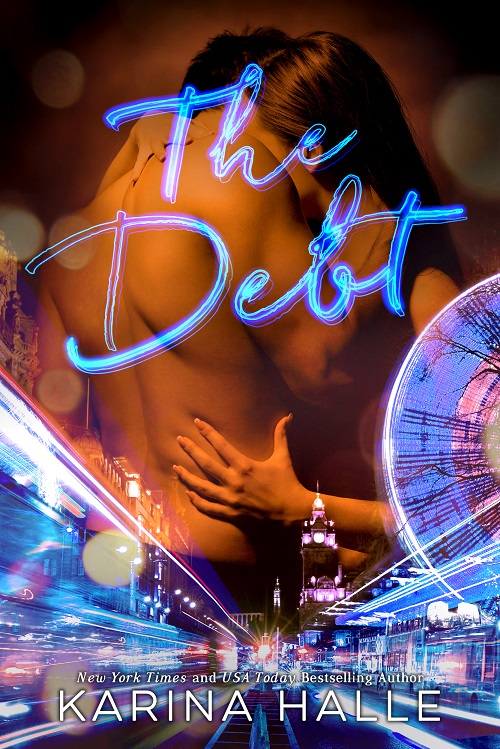 Klappentext:
Her life changed in an instant.
And he's the only one who could have prevented it.
Jessica Charles shouldn't have even been in London when the unthinkable happened.
She should have been back at home in Edinburgh, perhaps hanging with her boyfriend, preparing the baby shower for her sister, or teaching her yoga classes. She should have been going on in her normal, dependable life as always.
But on that fateful day in August, when a mentally-ill ex-soldier opened fire in public, Jessica's world changed forever.
Now single and crippled from the gunshot wounds, Jessica finds herself scared and alone, losing faith in herself and humanity with each agonizing moment that passes.
That is until a stranger enters her life. A stranger who makes her live again.
Keir McGregor has always been the strong, silent type. Throw in tall, dark, and handsome and you've got pretty much the perfect Scotsman.
Except Keir is anything but perfect. He's got a past he's running away from and a guilty conscience he can't seem to shed. But the more time he spends with Jessica, the more he falls in love with her.
And the more his secret threatens to tear them apart.
He may have been a stranger to her.
But she's never been a stranger to him.
~~~
Ein bisschen müssen wir uns aber noch gedulden, denn The Debt erscheint erst am 29. August 2016.
Alle weiteren Information zu dieser Reihe, Karina Halle selbst und ihren anderen Büchern findet ihr hier auf unserem Blog, auf ihrer Homepage, auf Facebook oder auf ihrer Goodreads-Seite.
Viele Grüße von Eurem Buchjunkie ND
Liebe Challenge-Teilnehmer,
Ihr musstet etwas warten, aber hier ist nun die Auswertung für den Mai. Sorry, dass es länger gedauert hat als erhofft.
Einige von Euch waren ja wieder verdammt fleißig =o)
Wie immer gibt es eine Auflistung der Bücher nach Anmeldereihenfolge:
nef = 2 Bücher:
Kein Sommer ohne Liebe - Andrews, Mary Kay
Ich heirate einen Arsch - Hohhlfeld, Kerstin; Andersson, Leif Lasse
Kerry = 5 Bücher:
Die Schattenbucht - Berg, Eric
Dreams: Zauber einer Nacht - Frost, Amanda
Sündiges Spiel - Robb, J. D.
Reflexion - Heitz, Markus
Lyssa: Ein Geheimniskrämer Fall - Heitz, Markus
Kleeblatt = 14 Bücher:
Das Hotel in den Highlands - Dunford, Caroline
Die Zucht - Winkelmann, Andreas
Henni & Hörg - Zwei Missionare räumen auf - Olbrich, Jörg
Für immer in deinem Herzen - Shipman, Viola
Vielleicht mag ich dich morgen - McFarlane, Mhairi
Vielleicht morgen - Musso, Guillaume
Italienische Nächte - Webb, Katherine
Schwur des Tigers - Houck, Colleen
Mein Mathedesaster oder der lange Weg zum ersten Kuss - Rylance, Ulrike
Floras Traum von roten Oleander - Hennig, Annette
Himmlische Ideen aus Stoffresten - Shore, Debbie
Ghetto Bitch - Gricksch, Gernot
Das beste vom Bodensee - vegetarisch - Leesker, Christiane
Das Glück der handgemachten Dinge - Boos, Marina
Hjördis = 7 Bücher:
Bunter-Gugl-Welt - Heigl, Chalwa
Rauklands Sohn - Lank, Jordis
Potzbadibautz, Mann - Grundmann, Harriet
Lauras Stern - Baumgart, Klaus
Das Seehaus - Morton, Kate
Der Wechstabenverbuchsler - Jeschke, Mathias
Mondschwinge - Haycraft, Lia
Beate = kein Buch
In Monat Mai haben wir insgesamt 28 Bücher gelesen und wieder keines davon doppelt =o)
Inzwischen haben wir die 100-Marke geknackt und befinden uns bei insgesamt 123 gelesenen Büchern. Super!
Der Juni ist schon ein paar Tage alt und ich glaube, wir werden wieder viel zusammen kriegen.
Macht weiter so!
Ganz liebe Grüße,
Eure Nef =o)
Heute möchten wir euch eine Neuerscheinung vorstellen: The Problem With Forever von Jennifer L. Armentrout
From #1 New York Times bestselling author Jennifer L. Armentrout comes THE PROBLEM WITH FOREVER - a young adult title about friendship, survival, and finding your voice. This incredible book is available today! Read more about this stunning new novel below and be sure to order your copy today to receive an amazing FREE fan pack while supplies last!
About THE PROBLEM WITH FOREVER:
From #1 New York Times bestselling author Jennifer L. Armentrout comes a riveting new story about friendship, survival, and finding your voice.
For some people, silence is a weapon.
For Mallory "Mouse" Dodge, it's a shield.
Growing up, she learned that the best way to survive was to say nothing. And even though it's been four years since her nightmare ended, she's beginning to worry that the fear that holds her back will last a lifetime.
Now, after years of homeschooling with loving adoptive parents, Mallory must face a new Milestone - spending her senior year at public high School. But of all the terrifying and exhilarating scenarios she's imagined, there's one she never dreamed of - that she'd run into Rider Stark, the friend and protector she hasn't seen since childhood, on her very first day.
It doesn't take long for Mallory to realize that the connection she shared with Rider never really faded. Yet the deeper their bond grows, the more it becomes apparent that she's not the only one grappling with lingering scars from the past. And as she watches Rider's life spiral out of control, Mallory must make a choice between staying silent and speaking out - for the people she loves, the life she wants, and the truths that need to be heard.
Register your preorder of THE PROBLEM WITH FOREVER by May 20th to receive a FREE fan pack! Includes inspirational wall art, a colorful poster, and flag-as-you-read stickers. You will also get immediate access to an extended excerpt from the book.
Praise for THE PROBLEM WITH FOREVER:
The intensity between Mouse and Rider is palpably sizzling - romance aficionados [will] lose themselves in Mouse and Rider's smoldering glances and steamy kisses. - Kirkus
Armentrout's effort to gradually coax her protagonist from her shell via a supportive, loving community succeeds, and readers looking for an inspirational comeback story will find Mallory?s to be satisfying and hopeful. - Publishers Weekly
About Jennifer L. Armentrout:
# 1 New York Times and #1 International Bestselling author Jennifer lives in Martinsburg, West Virginia. All the rumors you've heard about her state aren't true. When she's not hard at work writing, she spends her time reading, watching really bad zombie movies, pretending to write, and hanging out with her husband and her Jack Russell Loki. Her dreams of becoming an author started in algebra class, where she spent most of her time writing short stories - which explains her dismal grades in math. Jennifer writes young adult paranormal, science fiction, fantasy, and contemporary romance. She is published with Spencer Hill Press, Entangled Teen and Brazen, Disney/Hyperion and Harlequin Teen. Her book Obsidian has been optioned for a major motion picture and her Covenant Series has been optioned for TV. Her young adult romantic suspense novel DON'T LOOK BACK was a 2014 nominated Best in Young Adult Fiction by YALSA. She also writes Adult and New Adult contemporary and paranormal romance under the name J. Lynn. She is published by Entangled Brazen and HarperCollins.  
Und zum Abschluss haben wir auch noch eine kleine Leseprobe für euch:
The expression on her face said he gave great full frontal, and when he laughed, her pink lips split into a wide smile. Her smile transformed her from pretty to beautiful, but my attention swung away from her as tiny hairs rose all over my body. That laugh...it was deep, rich and somehow familiar. A shiver crept over my shoulders. That laugh...
He was walking backward, and I was rather amazed that he didn't trip over anything, actually somewhat envious of that fact. And then I realized he was heading toward the last half circle. Toward me. I glanced around. There were only a few seats open, two on my left. The girl was following him. Not just following him. Touching him.
Touching him like she'd done it a lot.
Her slim arm was extended, her hand planted in the center of his stomach, just below his chest. She bit down on her lower lip as her hand drifted farther south. Golden bangles dangling from her wrist got awful close to the worn leather belt. My cheeks heated as the boy stepped out of her reach. There was something playful about his movements, as if this dance was a daily routine for them both.
He turned at the end of the desks, stepping behind the occupied chair, and my gaze tracked up narrow hips, over the stomach the girl had touched, up and up, and then I saw his face.
I stopped breathing.
My brain couldn't perceive what I was seeing. It did not compute. I stared up at him, really saw him, saw a face that was familiar yet new to me, more mature than I remembered but still achingly beautiful. I knew him. Oh my God, I would know him anywhere, even if it had been four years and the last time I'd seen him, that last night that had been so horrible, had changed my life forever.
It was too surreal.
Now the reason why he'd popped in my head this morning made sense, because I'd seen him, but hadn't realized it was him.
I couldn't move, couldn't get enough air into my lungs and couldn't believe this was happening. My hands slipped off the desk, falling limply into my lap as he dipped into the seat next to me. His gaze was on the girl who took the seat next to him, and his profile, the strong jaw that had only been hinted at the last time I'd seen him, tilted as his eyes moved over the front of the room, across the wall - length chalkboard. He looked like he had back then, but bigger and with everything more...more defined. From the eyebrows darker than the mix of brown and black hair and thick lashes to the broad cheekbones and the slight scruff covering the curve of his jaw.
Goodness, he'd grown up in the way I'd thought he would when I was twelve and started to really look at him, to see him as a boy.
I couldn't believe he was here. My heart was trying to claw itself out of my chest as lips - lips fuller that I remembered - tilted up, and a knot formed in my belly as the dimple formed in his right cheek. The only dimple he had. No matching set. Just one. My mind raced back through the years, and I could only think of a handful of times I'd seen him relaxed. Leaning back in the chair that seemed too small for him, he slowly turned his head toward me. Eyes that were brown with tiny flecks of gold met mine.
Eyes I'd never forgotten.
The easy, almost lazy smile I'd never seen on his face before froze. His lips parted and a paleness seeped under his tawny skin. Those eyes widened, the gold flecks seeming to expand. He recognized me; I had changed a lot since then, but still, recognition dawned in his features. He was moving again, leaning forward on his seat toward me. Four words roared out of the past and echoed in my head.
Don't make a sound.
"Mouse?" he breathed.
« Zurück | Seite: 1 2 3 4 5 6 7 8 9 10 11 12 13 14 15 16 17 18 19 20 21 22 | Weiter »
Bewertungen
| | |
| --- | --- |
| | (297) |
| | (320) |
| | (350) |
| | (185) |
| | (114) |
| | (53) |
| | (45) |
| | (16) |
| | (11) |
Folge uns
Besucher
Heute: 71
Dieser Monat: 12688
Insgesamt: 3045969